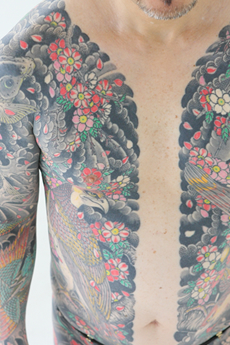 Irezumi is a Japanese traditional art form.
Irezumi is just like transferring Japanese-style paintings on human bodies.
Taking irezumi as art, we would like to convey its beauty and greatness to the world.

"Chest Dividing"

This is one of the traditional tattooing styles. A strip running down the center of the upper body is left clear of tattoos.

It is a style developed originally to avoid tattoos showing from the collar line when one wears kimono.
Women are carefully tattooed so that tattoos may not show up from the neckline.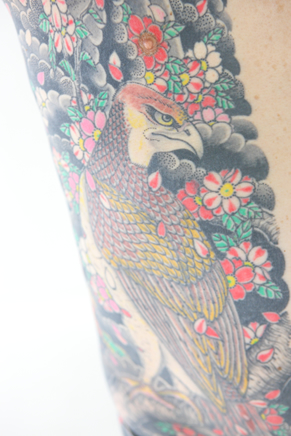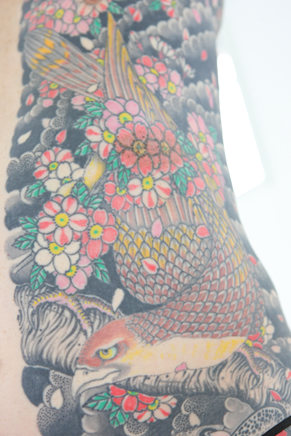 "Ascending hawk" on the right flank and "descending hawk" on the left flank. Many colors including brown, yellow, black, pale black, pink, and blue are used.

"Design"

Irezumi has some regular designs that have been inherited for hundreds of years, such as "foo dog and peony" or "carp and autumn leaves."

It is nice to daringly break a tradition, but it would be meaningless if there is no proper implication. No implication equals no value.

Generally, tiger is supposed to be with bamboo. However, Horiyoshi-III daringly tattooed double cherry blossoms for cheerfulness.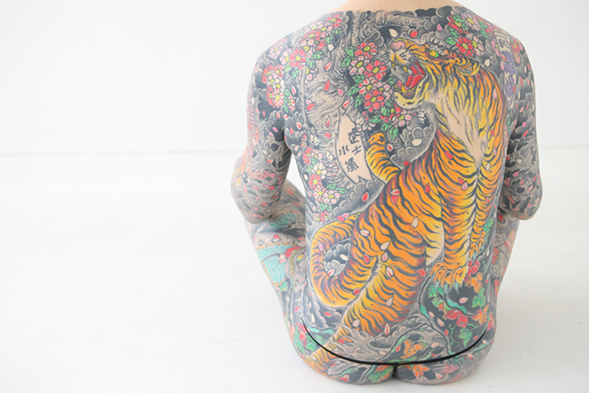 Tiger on the back. Only for the tiger design, it takes three times of line engraving, twice of stripe patterning and some five times of coloring to complete. The tiger is also adorned with cherry tree branches and a tree trunk.