Hidden parts of the body are seen only by your family and/or your lover. You can have beautiful tattoos there for sure, but in the world of play, you daringly take different approaches for fun.

"Hidden Tattoos"

The inside of upper arms is usually hidden from eyes of other people, so it is considered to be the place for fun tattooing or joke tattooing.

Most designs of hidden tattoos are erotica. I have had erotica tattooed but Horiyoshi-III made them very artistic.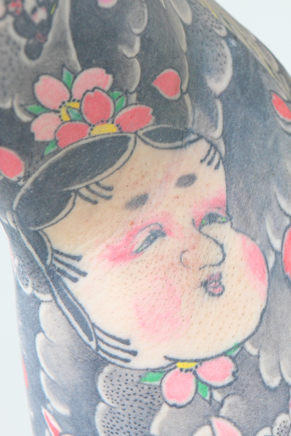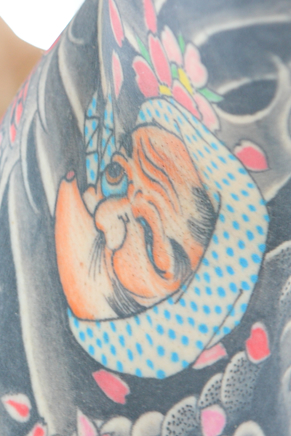 Okame (woman's mask) and hyottoko (man's mask) under the arms. There are various male-female theories as to okame and hyottoko. They are unexpectedly funny for irezumi designs.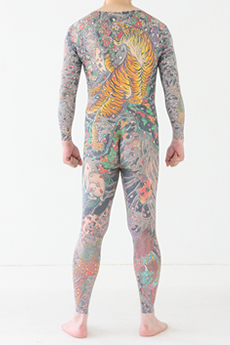 "Piercing"

Pain, money, and time are the three forms of patience that people often say regarding irezumi.
Horiyoshi-III says, it is also important to have the patience to stop.

Once the whole body is tattooed, people often think about tattooing on the top of the feet or the genitals next. By doing this, the total beauty of form will collapse.

Many people keep tsukinaoshi (sarai), which means adding colors to the places where are already colored. By doing tsukinaoshi, colors and designs become more sophisticated.